The High-Octane Excitement of
Wakeboarding on Lake Powell
The pristine waters of Lake Powell were meant to be ridden. All you need is a boat and a couple of our wakeboards to get started! Take off from any marina on Lake Powell, find a stretch of water to explore, and hang on as you ride the wake (hence the name) of the watercraft ahead of you.
There's nothing like wakeboarding the wide stretches of Lake Powell. Kids and adults of all ages can learn to wakeboard; all it takes is a bit of practice and a willingness to get wet should you fall! Fortunately, falling is half the fun. Take your time and learn the ropes at low speeds. Get used to the chop of the waves with a bit of kneeboarding. Once you are prepared and practiced, take off across the water as a full-blown wakeboarder and catch air off the sharp waves of your
wakesurf vessel
.
Wakeboarding is an extreme sport. This means you are going to feel the burn of an intense workout when you are out there on the water. That doesn't mean that it isn't a sport for the kids, though. In fact, once your child or teenager gets a taste of wakeboarding action, you will be hard-pressed to keep them off the rope and wakeboard! No matter what time of year you come to Lake Powell, we have the wakeboards you need to make your vacation unforgettable. Reserve yours today, and pick them up at our shop in Page, AZ.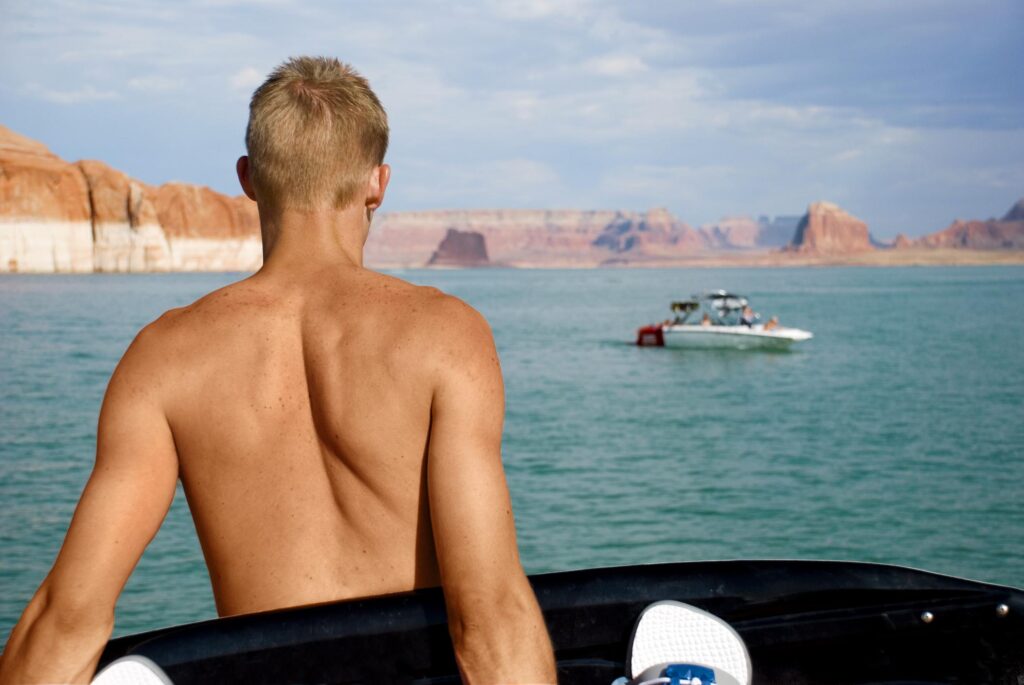 Reserve your wakeboard rental, either day by day or by the week! Lake Powell Rentals & Retail ensures that your low-cost wakeboard rentals are ready for your arrival at our Page, AZ, shop.
Get in touch with us to learn more about renting wakeboards, wakeboard boats, and other gear for your Lake Powell adventure!
Most Frequently Asked Wakeboarding Questions
What do I need to wear for wakeboarding?
A life jacket is a must-have, of course. It's a good idea to wear a shirt beneath the jacket to avoid chafing, as wakeboarding is a very active sport. A wet suit is a great option as well. It's not a problem to go wakeboarding barefoot, as this will give you the traction you need to steer your board. Wakeboard boots are also an option that will give you great traction and are a good investment if you plan on wakeboarding many times throughout the year.
What size of wakeboard do I need?
The largest determining factor for choosing a wakeboard is weight. The next most important is height. Boards are made for a range of weights, and we can help you choose the right board for your specific needs. If you are unsure about the length of the board, it may be a good option to choose a slightly longer board with a higher weight. This will give you the wiggle room you need for the best experience.
Does the kind of rope I use for wakeboarding matter?
Yes, it does. For waterskiing, for example, nylon rope is used to offer the rider a bit of flexibility to generate long-lasting speed. Wakeboarding, on the other hand, relies on a rope with no stretch; this is necessary for the rider to keep speed on the high-friction wakes generated by the watercraft. If you have any other questions concerning the right methods of wakeboarding, never hesitate to ask us when choosing the right equipment. We want you to have the best experience possible!