Float in Style with Lily Pads

from Lake Powell Rentals & Retail
Swimming without assistance in the warm water of Lake Powell can be tricky, especially if you only have the boat to return to. Instead, give you and your whole family the comfort and fun of a lily pad! These ingenious floating pads are easy to roll up, simple to roll out, and are buoyant enough to hold a reclining chair while you bask in the glow of the sun. Whether you enjoy swimming in the shallows of the beaches along the lake or prefer to find a secluded and beautiful spot within the protection of the inlets, our floating lily pads provide comfort no matter where you swim.
Made of flexible layers of foam designed for maximum buoyancy, a lily pad can easily hold 900 to 1,400 pounds depending on the weight distribution. Although the lily pad will sink beneath the
surface of the water due to the weight, the lily pad is easy to climb onto and just as fun to jump off of into the Arizona water. Depending on the size of the lily pad you prefer, your entire group can easily stand and sit on the pad without issue!
Lily pads are extremely versatile and an excellent accessory to take with you no matter where you travel at Lake Powell. In fact, with a lily pad in your boat, you can enjoy the beautiful red rock canyons and landmarks without climbing up the steep sides of the rocks or disturbing the natural wonder. Along with your watercraft, make your lily pad the center of activity for swimming and sunbathing without putting yourself or your kids in danger from climbing where you shouldn't. Book your lily pad rental today to add even more excitement to your Lake Powell adventures!
The Perfect Lake Powell Experience for
Swimming with A Lily Pad
Here are just a few locations where a lily pad can serve as your fun, floating basecamp in Lake Powell!
Very basic name, but a very easy place to utilize your lily pad if you don't have some sort of motorized vessel to take you up lake. Located in Wahweap, right next to the main launch ramp. Very family friendly beach and perfect place to spend your summer day. without having to travel far.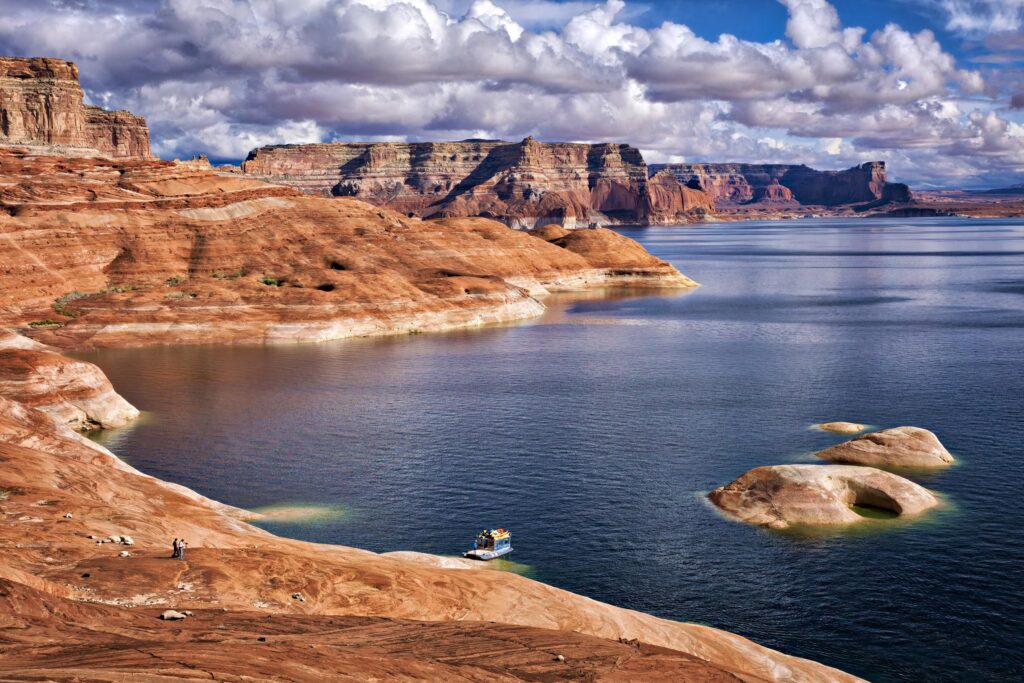 The nice sandy beaches of Lake Powell make for some of the most relaxing and fun locations to spend the day with family and friends. Lone Rock Beach is one of these exciting places, perfect for lily pads, tubing, and swimming. If you're interested, Lone Rock Beach is right next to the Antelope Point Marina, which features a floating restaurant and a cable-driven wakeboard tour. No matter what you decide to do, be sure to use your lily pad here; kids love having a place to stand in the middle of the warm lake water!
Is it difficult to climb onto a lily pad once I'm in the water?
Actually, it isn't! The lily pad flexes and sinks to your weight, and you can either roll onto the surface or crawl on all fours to hop aboard. This is why kids love lily pads so much: they can climb off and jump into the water as many times as they want without much trouble.
Can lily pads start to float away?
While this is something to look out for, it's easy to fix. Depending on the size and weight of the lily pad, it won't move much. Either way, they are very easy to reposition. Even the largest lily pads are fairly easy to move. All our lily pads have a tether system that can be attached to the beach to help the lily pad stay in position.
What kinds of lily pads are there?
You can lounge on a lily pad the size of a single person, or you can bring a lily pad perfect for two or three kids. There are also lily pads that are actually called bullfrogs and those have an extra layer to them so they hold the most amount of weight. We rent all sizes and can show you a couple of different options depending on the size of your group.