The Best Rental Company for
the Ultimate Lake Powell Experience
We love Lake Powell. The red rocks. The still waters. It truly is the perfect family vacation spot and outdoor paradise. But your trip to Lake Powell wouldn't be complete without fun rentals from Lake Powell Rentals & Retail.
Browse our rentals
to jump-start your next Lake Powell visit.
Some of Our Rental Services

Wake surf boats are the masters of several trades. You can use them for wakeboarding, water skiing, wakesurfing, or even just swimming. Our Lake Powell surf boats are easy enough to use for new drivers to get the hang of it, but they still offer a thrill for an old hand to thoroughly enjoy themselves.
Kayaking is a great water sport that you can enjoy on your own or with a friend. We have both solo and tandem kayaks. Even kids can get in on the kayaking fun (with adult supervision). All our kayaks have space for a cooler, so you can enjoy some chilled drinks out on the lake. Whether you want to enjoy some time on your own or have an adventure for two, we have a kayak for you.
Our paddleboards are light and durable, with plenty of space to firmly plant your feet. They are aerodynamic and stable and easy enough for a novice to take out for their first time on the water. All our models can carry a weight of up to 220 pounds and are difficult to capsize. We also provide you with a life jacket and other safety equipment.

Inflatable tubes are a great way to spend a lazy afternoon out on the lake, enjoying the warm sunshine and cool breeze. You can read your favorite book, enjoy a drink, or just daydream away as you float downriver. Tubes come with complementary tethers and carabiners to hold a group of tubes together. Our tubes are made from heavy-duty 30-gauge vinyl. They even come with cup holders and an optional backrest.

We have a range of pontoon boats to choose from, depending on your speed and space needs. Our boats can seat up to 12 people. Each of our pontoons comes with trays and cup holders for your beverages and food. Pontoon boats can pull water skis along, and they promise a great time for all.

When you want to relax or play in the water, there's nothing better than a lily pad. The lily pad is as lovely as it sounds: a comfortable, spacious pad that is roomy enough for several people. You can use the lily pad as a launchpad for more fun or even fall asleep as the rolling waves of the lake gently rock you.
Surfboards
Channel your inner surfer by riding the Lake Powell waves with one of our surfboard rentals! Surfing requires balance, determination, and a surfboard. Each of our surfboard rentals comes with a leash to help keep you on the board. Whether it's your first time on the surfboard or you've spent years surfing, you'll love surfing at Lake Powell!
Pedal bikes use your feet to pedal instead of paddles or oars. They give your legs a workout and are a lot of fun! Our water pedal bikes come in lots of bright, fun colors and are designed for single riders. These hydrocycles are a great option for a little healthy family competition.
The next time you're planning a family vacation to Lake Powell, consider all the great outdoor activities you can try with Lake Powell Rentals & Retail. Get in touch with us today!
PRANA - ENVY - FUZION - LUCKY BRAND - RUSTY - SANUK
SPY WEAR - LIQUID FORCE - HYPER LITE - CHACO - TILLEY HATS
Come find your favorite brands at our
retail store.
Call or visit us to find out how you can start your adventure today!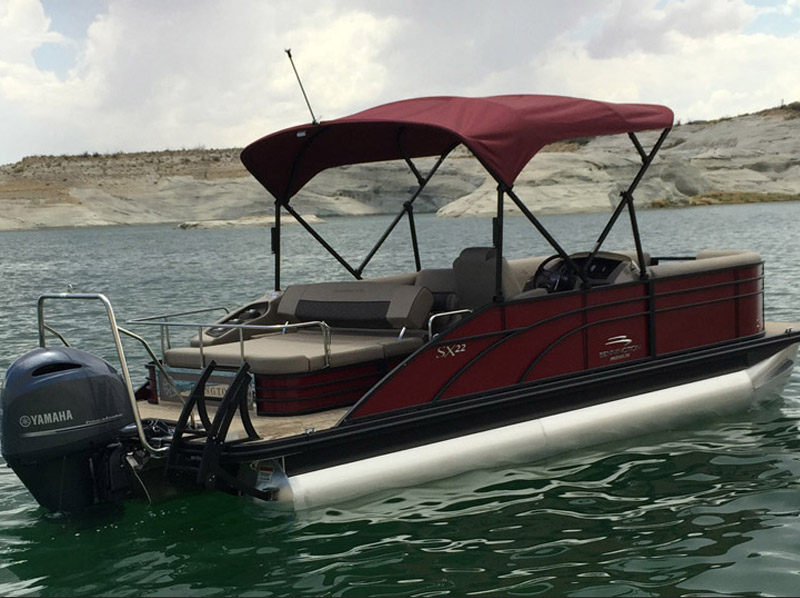 Now Renting Bennington Pontoons
At Lake Powell Vacations, leave behind the masses and find your own majestic adventures