Experience Lake Powell at Its Best with
Affordable Kayak Rentals
Endless adventure awaits on the still waters of Lake Powell. Travel beyond the crowded docks and popular beaches in the comfort of a kayak that's just the right size for floating between the sandstone and red rock canyons where larger boats can't pass through. Take in the natural wonders that make Lake Powell so unique while enjoying a relaxing cruise on its glassy waters.
Truly, there's nothing like kayaking Lake Powell to really experience this one-of-a-kind vacation spot. You can see more and explore more, all at a lower cost! Anchor your kayak wherever the wind and water may take you as you get out to hike around some of the best natural wonders in the southwestern region.
Go cruising for a day or rent a kayak for the whole week for overnight trips with Lake Powell Rentals & Retail. Our simple booking process and shop location in Page, AZ, get you out and on the water in no time. We can recommend the best places to kayak Lake Powell (including Antelope Canyon, a must-see spot!) and even sell kayaking outfits and clothing in our retail shop! We have all that you need for the perfect Lake Powell vacation.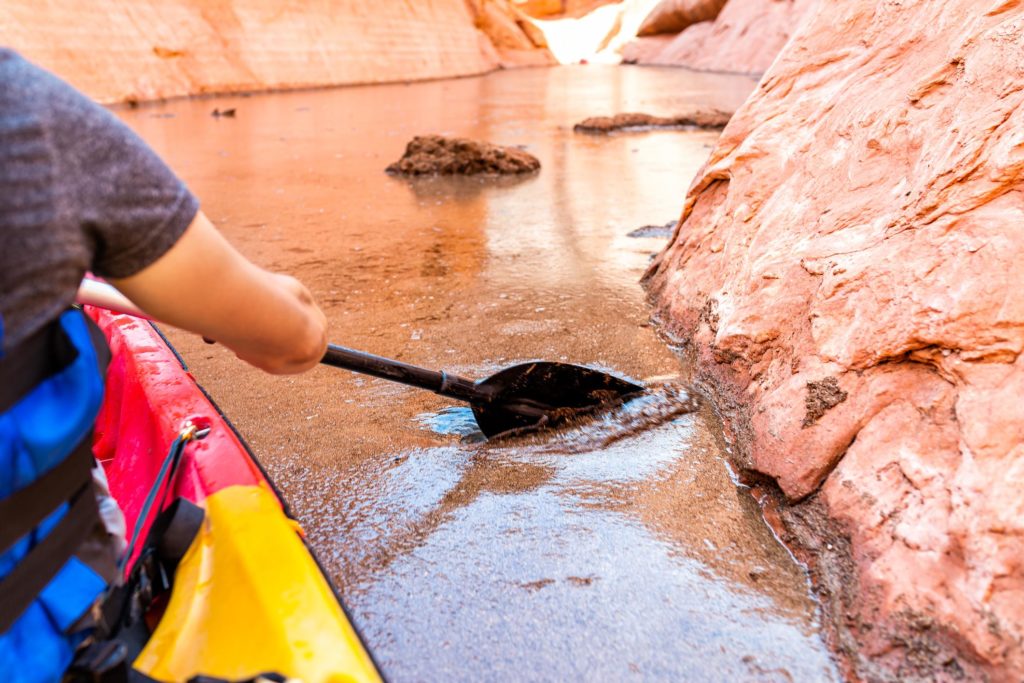 Travel solo or as a group in tandem kayaks! We rent them all at great prices for a single day or a full week. Each reservation is always confirmed and ready for your arrival at Lake Powell.
Kayak rentals include
life jackets
, paddles, car racks, and straps for the safe transportation of your rental. Book a kayak rental with us today!
The Best
Day and Overnight Kayak Trips

on Lake Powell
When you pick up your kayak rental at Lake Powell Rentals & Retail, we can give you a map of some of our top places to kayak on Lake Powell. Luckily, kayaks can be launched nearly anywhere, not just at the docks, marinas, and launching ramps. Lone Rock Beach, with its beach camping, can be a popular launching point, as can Stanton Creek farther up north. If you do choose to use a launching ramp, some less crowded options include Stateline and Antelope Point or Halls Crossing on the Bullfrog side.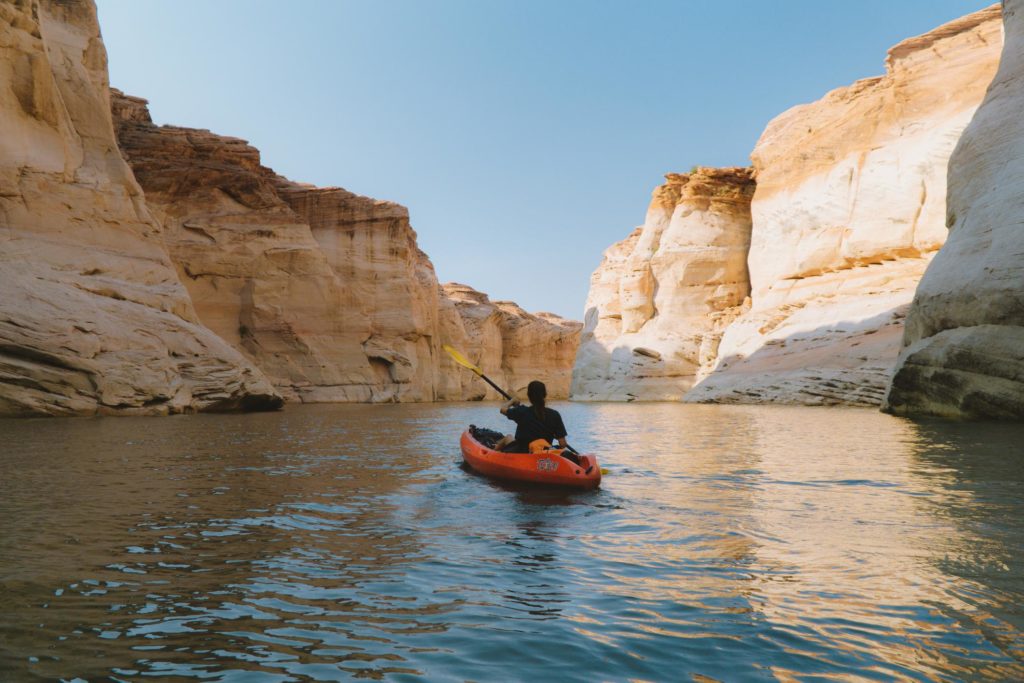 Kayaking
Antelope Canyon
is an experience not to be missed! The iconic slot canyons can be reached via nearby water channels for a unique, one-of-kind trip. Because this is one of the few wakeless canyons in Lake Powell, you can enjoy smooth sailing and calm waters on it all year long.
Spend a night camping on Lone Rock Beach before exploring the canyons and inlets at this popular spot to kayak Lake Powell! This is a great location for kayak groups with any experience level. Sneak away from the crowds and motorboats into secluded areas along the bay.
If you find yourself uplake, Lost Eden Canyon is a nice, short trip down another wakeless canyon route. Just a mile from the Halls Crossing launching ramp, the route proves relatively easy while providing some awe-inspiring views along tall stone corridors.
Want a kayaking trip with a little more adventure? Take the Colorado River for a spin starting at Lee's Ferry traveling towards Glen Canyon Dam. Pass around
Horseshoe Bend
(one of the most popular sites in the area) and take your pick of several campsites along the river for an overnight stay.
Talk with our staff about other spots to visit in Lake Powell and Page, AZ, and where we love to kayak! See our interactive map for even more ideas.
How much gear can your kayak rentals hold?
For travelers taking hiking or camping gear with them, our kayaks have plenty of space to store items. Think of them as having approximately two times what you can fit in a hiking backpack. To fit more in the narrow storage space, pack gear in smaller bags and containers.
When is the best time of year to kayak Lake Powell?
Visitors come here year-round, but some seasons are more suited for kayaking Lake Powell than others. In the spring (March-May), the water is still cold, making capsizing a danger. We recommend renting a wet suit if you do kayak during this time of year. Or, come back in the summer when the warm weather and perfect water temperatures make this such a popular spot.
September through November, the autumn months, are an ideal time to visit as well, maybe even more so for kayakers looking to do overnight trips for the cooler nights and fewer motorboats to compete with on the water. Visiting during the winter is only recommended for more proficient kayakers who have experience with cold water capsizing.
Do you need to go on a tour to kayak Antelope Canyon?
One of the perks about kayaking Antelope Canyon is bypassing tour groups on foot for a private trip. However, if you want to get out and do some hiking of your own in the slot canyons that Antelope Canyon is famous for, you will need a tour guide.