Surf Boat & Pontoon Boat Rentals
Surf Boat Rentals

for Your Lake Powell Adventure
Enhance your Lake Powell experience with a surf boat rental from Lake Powell Rentals & Retail!
Our surf boats lead the way in design, innovation, build quality, ergonomics, style, and performance. From the beginner to the seasoned pro, Lake Powell Rentals & Retail has a surf boat for every age and skill level.
Lake Powell Rentals & Retail is proud to offer huge savings on all surf boat models. When you rent with us, you will only find the best surf boats Lake Powell has to offer!
Our top-of-the-line surf and pontoon boats are all licensed and ready to go when you are. Our boat rental service is unmatched, offering
pontoon boat rentals
and
wakeboard boat
rentals as well. Answer the call of adventure on the open water with Lake Powell Rentals & Retail!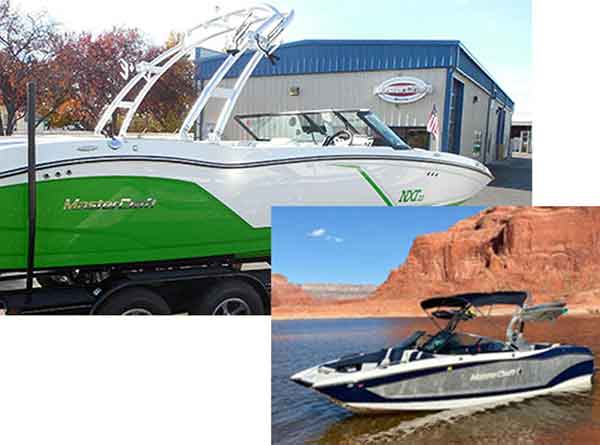 Why Rent
Wakesurf Boats at Lake Powell
Not all boats are cut out for your wakesurf board rental, which is why you need to rent a wakesurf boat. Each of our wakesurf boat rentals can safely be used for wakesurfing and wakeboarding. Surf boats are built to smoothly glide across water, especially lakes like Lake Powell. Wake surf boats are perfect for water sports of all kinds. When you're looking to go wakesurfing, wakeboarding, water skiing, or kneeboarding during your time at Lake Powell, be sure to get a reliable wakesurf boat rental from Lake Powell Rentals & Retail!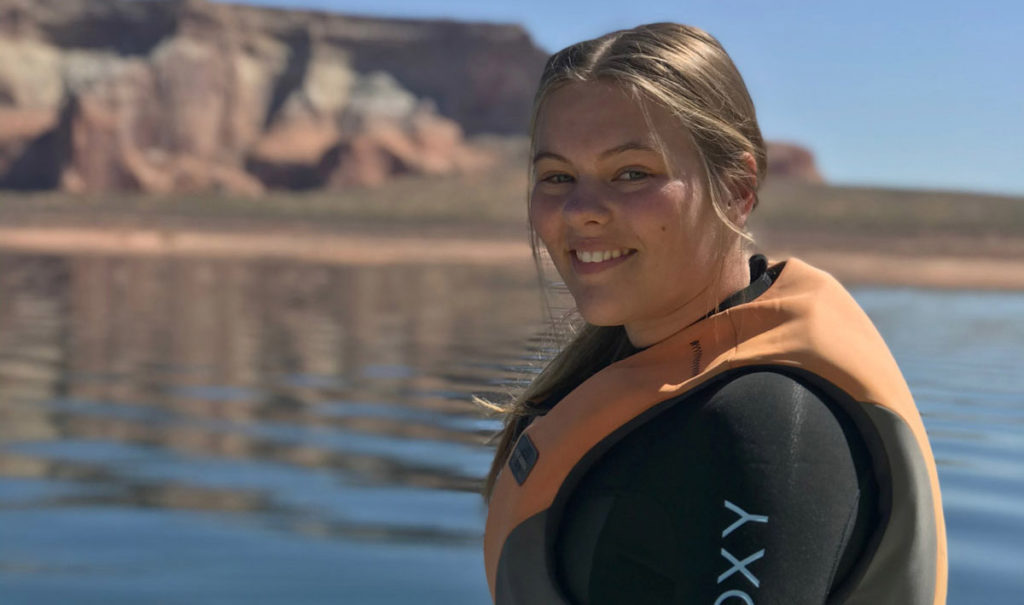 Rent Lake Powell wake Surf Boats
Check on Location: Wahweap Main Marina Courtesy Dock.​
Check on Time: 8:00 AM. If this time will not work for your party, please let us know. Otherwise, a $75.00 late fee will be charged starting at 9:00AM and every hour after that.
**PLEASE NOTE: IF YOU DO NOT ALREADY HAVE A NATIONAL PARK PASS THERE IS AN ENTRANCE FEE INTO WAHWEAP MARINA. COST SHOULD BE AROUND $30.00 PER VHECLE**
Return Time: 4:30 PM Back at the Launch Ramp
FUEL: We send out the boat with a full tank, you are responsible for fueling upon return. There are two options for fueling.
1) Fuel yourself at the marina – the marina fuel dock does close at 4 pm sharp.
2) We can fuel for you at the marina. Please note there will be a 15% service charge added to your bill if we fuel for you.
DAMAGE DEPOSIT: All Boats now have a deposit that will be taken out the day before your rental. The Pontoon will be a $550.00 Deposit, Mastercraft Boats & The Malibu Wakesetter will be a $1,000.00 Deposit. If you are wanting to pay the deposit with cash or check, please let us know in advance. If not, the deposit will automatically be charged with your final payment the day before your rental.
**PONTOON CANCELATION POLICY: You have up to 20 days before your rental date to cancel, 5% will automatically be taken from the deposit the rest you will receive back to the card on file. After the 20 days your initial deposit becomes non-refundable. **
**MASTERCRAFT & MALIBU CANCELATION POLICY: You have up to 20 days before your rental date to cancel, 50% will automatically be taken from the deposit the rest you will receive back to the card on file. After the 20 days your initial deposit becomes non-refundable. **
**WEATHER: Lake Powell Vacations reserves the right to cancel boat rentals if inclement weather is forecasted during the rental period. We want your time on the water to be great, but your safety is our priority. If the customer decides to cancel because of weather on their own without us advising it, there will be NO REFUND
**INSURANCE: WE DO NOT PROVIDE ANY FORM OF RENTERS INSURANCE. INSURANCE IS NOT NEEDED TO RENT FROM OUR COMPANY, HOWEVER IF THE CUSTOMER IS WANTING COVERAGE, THEY WILL NEED TO PROVIDE THEIR OWN. IF YOU ARE WANTING INSURANCE, WE RECOMMEND CHECKING WITH YOUR CREDIT CARD COMPANY FIRST.​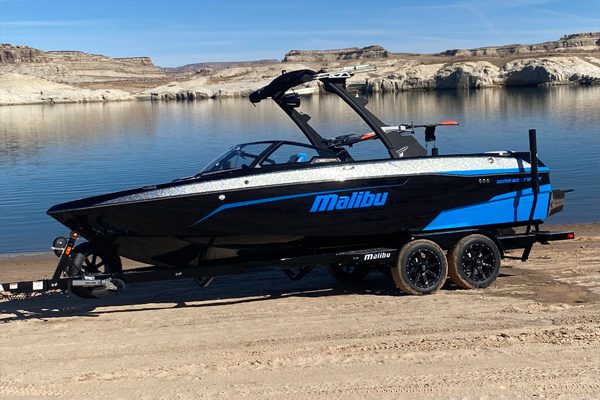 Malibu SURF Boat
It is a 2021 LSV Malibu. This boat has bold cutting new features including rider wrist bands so the rider can control their own wake and speed to keep the wake exactly how they like it, a Multi-View Wake Bench, a seating innovation that takes your 23 from wraparound lounge to wake-facing seating to dining room in seconds, easy to use dual touch screen, forward and rear facing cameras so the captain can really keep an eye on things, The MaxBallast L-Shaped Tanks with eMLS High Flo Pumps, fill in a fraction of the time so you spend less time prepping and more time riding.
MASTERCRAFT XT23
Summer means it's time to go off and fly the fun flag. In the XT23, you've got room for 16 and a plethora of plush seating. DECKadence custom flooring runs bow to stern, and overhead, your Klipsch speakers crank concert-quality sound atop the ZFT4 tower. The action behind the boat is nonstop, thanks to the Gen 2 Surf System and a robust 2600 pounds of ballast. PACKING A PUNCH AGAINST ANY BOAT FOR ANY ACTIVITY!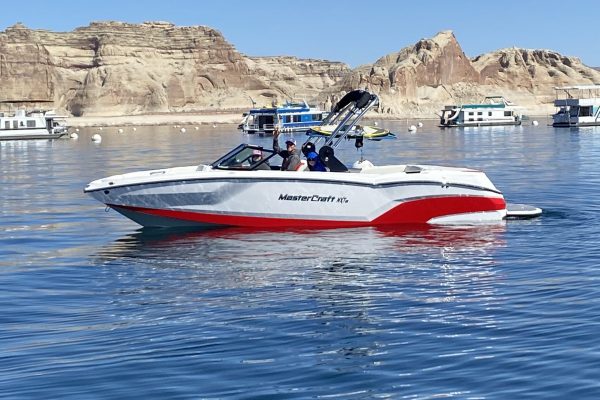 2021 Mastercraft NXT24
The brand-new MasterCraft NXT24 is 24' long and has a powerful 6.0 engine to conquer any waves that Lake Powell throws your way. With seating for 16 people on this luxury wakesurf boat, you'll be able to dock and surf in comfort and style.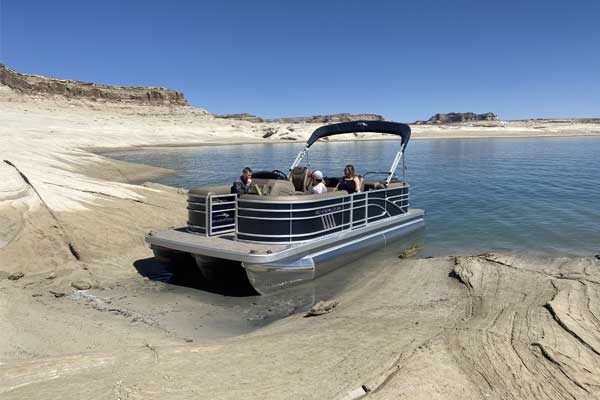 2021 BENNINGTON 22′ PONTOON BOAT
Soak in the sun or relax in the shade of the Bimini top! The 2021 Bennington pontoon seats up to 10 and includes a depth finder. With a 150 Yamaha motor, you'll cruise across Lake Powell in style and comfort.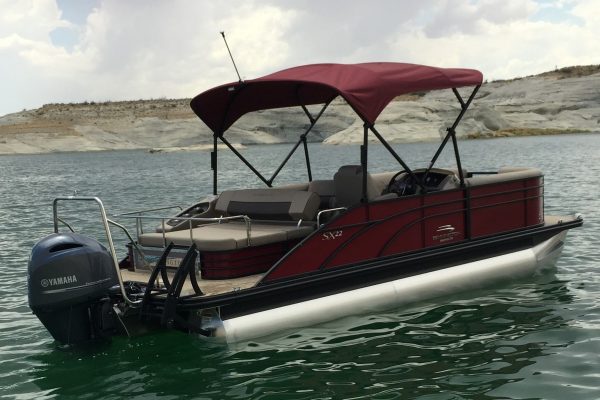 2019 BENNINGTON 21′ PONTOON BOAT
Take the party to the water on our luxurious Bennington pontoon boat rental. Lounge on upright and laidback seating for 10 underneath the UV-protecting sunshade.
2019 Godfrey 24' Pontoon Boat
Lounge on the lake with your family and friends in our largest pontoon boat. With it's double Bimini top everyone can enjoy the shade or the sun. Enjoy Lake Powell in comfort and style!
Our Most Popular
Surf Boat Rental Additions
Are you looking for an adrenaline-pumping activity like no other on Lake Powell? Experience the rush of water skiing behind a surf boat rental! A water ski rental from Lake Powell Rentals & Retail is super affordable and high quality, ready to take on the waves and wakes of Lake Powell with style. Plan your next adventure on Lake Powell with line and a pair of water skis. We also offer single skis for a workout like you've never experienced before. Don't forget your
life jacket
—we rent those as well!
Book with Lake Powell Rentals & Retail before you go on your trip. We will have all the gear you need to experience the fun of the wide water of Lake Powell.
Think Lake Powell has no waves to surf on? Think again! Surf behind the wake of your wakesurf boat and experience a low-impact and fun activity for all ages. Your wakesurf experience all depends on the speed of your boat. At about ten miles per hour, kids can learn how to get up on the wakesurf board and follow the boat close enough to have as much fun as the adults. For the experienced, soar across the waves with wakesurfing tricks and wicked flips!
Worried about having the right equipment for your next vacation? Our rental gear is ready to ride! Schedule with us, and we will have what you need right when you need it. Busy season or slow, we have the best wakesurfing boards and boats on the lake.
A combination of water skiing and wakesurfing, wakeboarding takes extreme sports to the next level. Connected to your surf boat rental, the wide wakeboard allows the rider to perform amazing aerial flips and turns. From brand-new beginners to X Games experts, you will love wakeboarding! Before you go, book with our Lake Powell boat rental company for your vacation, then take off on the waves. Lake Powell Rentals & Retail provides the
best wakeboard rental
Lake Powell has to offer.
Before you tear up the wakes and waves, you will need the right equipment. Book with Lake Powell Rentals & Retail, and we will prepare your board, line, and life jacket for exciting and safe wakeboarding.
Each Surf Boat comes iwth a Your choice of gear, listed below, includes your choice of Wakeboard, Surfboard, Kneeboard, Skis, or Towable Tube rental. When reserving your boat, make sure to tell our staff members what rental gear you want!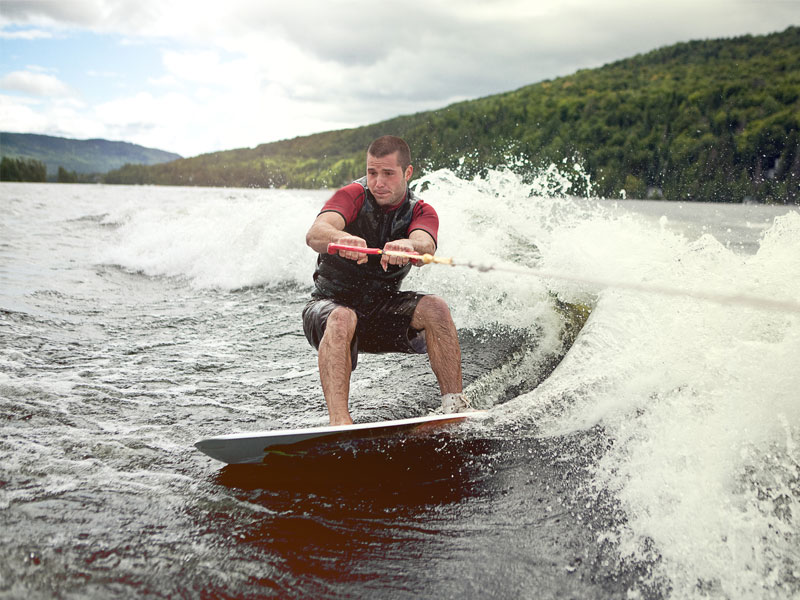 Gear (Includes Rope) – $25 each per day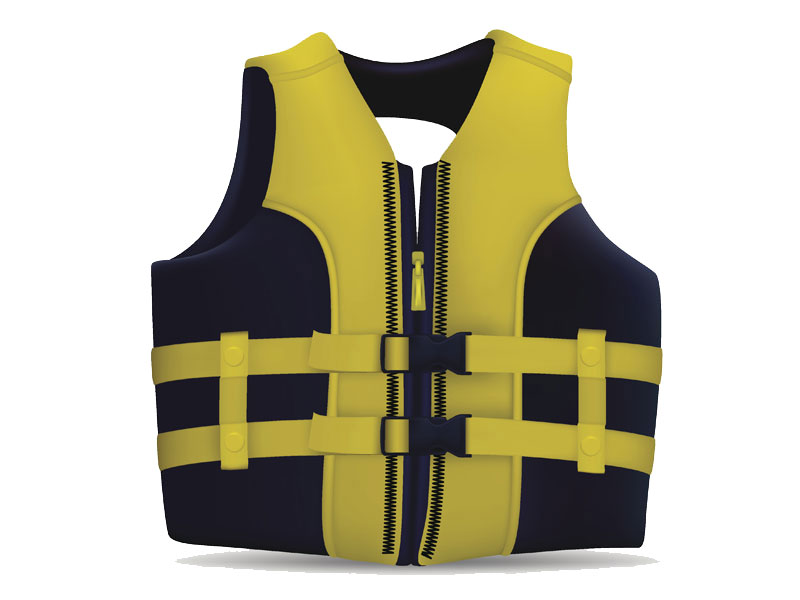 Life Jacket/Vest (Any Size) – $5 each per day
Rental Pick-Up: Please note the rental pickup process takes about 30 minutes to fill out paperwork and go over boat operating procedures.
Life Jackets: Life jackets and the required Coast Guard safety kit are provided with your rental for no additional charge.
Fuel: All boat rental gas tanks are full when you pick them up and must be returned full to avoid extra charges. The equipment uses Premium unleaded gasoline ONLY, and we'll provide you with refueling instructions during pickup. If needed, you can refuel at the floating marina or on the trailer in the city after pulling the boat out of the water.
Awesome Boating Destinations

on Lake Powell
Whether you are a regular out on the water or a brand-new boat owner, we know you are going to fall in love with the stunning sights and exciting waves of Lake Powell. Right from the beginning of your trip, we can give you a map of the best boating spots on Lake Powell, as well as details about the most popular landmarks you can travel to. You can use a launching ramp at locations like Wahweap Marina or Halls Crossing. If you have any questions about which docks are less crowded during your time on the water, let us know. We'd love to help!
Rainbow Bridge National Monument
Called the "rainbow turned to stone" by the Navajo people, the Rainbow Bridge is a 290-foot-high arch of Kayenta sandstone that crosses Bridge Creek. Boating towards the north end of Lake Powell and hiking to see one of the seven natural wonders of the world is at least a half-day excursion, so be prepared!
With a thirty-minute ride from Bullfrog or Halls Crossing, beach your watercraft in Forgotten Canyon and take a twenty-minute hike to see Defiance House. The ruins date back almost 700 years and are covered in murals painted by Utah's ancient native Pueblo. Both the walls of the ruins and the remoteness of the location demonstrate a reliance on the land.
About 23 miles south of Bullfrog Marina is a breathtaking example of the beauty of nature: Cathedral Canyon. Depending on the water levels of the lake at the time, you can often tie up your boat right before the canyon opens. This narrow canyon, only 12 feet wide in some places, features walls hundreds of feet high.
After an hour's travel by powerboat from Bullfrog, view the beautiful desert oasis that is Iceberg Canyon. Fishing in the area is fantastic, and you can take a hike up the ledges of the canyon to see Anasazi ruins. The canyon is six chasms of deep orange surrounded by lush plant life. Visit in the early summer for the best experience!
What if I can't haul my surf boat or pontoon to the lake?
When you book a wakesurf boat rental, Lake Powell Rentals & Retail will always take your rental boat to the lake for you! You never have to worry about hauling your boat rental. Additionally, we'll launch and retrieve the boat for you.
Why should I rent my Lake Powell surf boat from Lake Powell Rentals & Retail?
Surf boats are boats that you can easily use to go wakesurfing. At Lake Powell Rentals & Retail, we only carry top-of-the-line surf boats. While you may be able to find a surf boat rental elsewhere, our boats are of the highest quality. Make sure that you're safe while you're wakesurfing across Lake Powell by renting a wakesurf boat from Lake Powell Rentals & Retail!
For my first boat rental adventure, what kind of gear should I bring?
We recommend a few essentials such as sun protection gear and clothing, insect repellent, and enough drinks and snacks (especially water) to last for your desired trip. It never hurts to bring binoculars, and you should always bring a camera, even if it is just your cell phone. Bring your watersports and fishing gear, and never ever forget your life jacket. If you worry about electronics like a GPS in an emergency, waterproof maps of the lake are a great item to have. Be aware that there are floating restrooms on the lake, so keep an eye on the map for those.
What time of year is best for Lake Powell boating trips?
This is an excellent question and totally depends on what you want to do while you are here. If you plan on tying off your boat and hiking, it is best to go in late summer or early fall when the lake isn't as busy. If you like to fish, you can come at any time! If you plan on swimming, enjoy the lake in the heat of summer when the sun is shining. Plan your trip during the cooler months (October through February) to avoid the crowds, and you can't go wrong.
What else should I know about boating Lake Powell before renting?
Plan before you go! Get information about the weather before you head out, get up-to-date information about the lake and current water levels, and pack enough food and bottled water for the time you want to spend on the lake. If you have any worries at all, never hesitate to ask us questions.