Float the Warm Waters of Lake Powell with
Tube Rentals
It doesn't matter if you want to enjoy the warmth of a sunny day on Lake Powell or experience the spray of whitewater as you coast along the surface of the water: an inflatable tube will let you do both on the same day. Float lazily along near the shore of the lake or hook up our tubes to the back of your watercraft. Whatever adventure you plan, we have the gear you need to have fun!
Floating on an inflatable tube is something that adults and kids of all ages can enjoy. No matter the intensity of your vacation, you can take a tube out to the lake and have a blast. And since the tubes are portable and can be blown up with a simple pump wherever you go, take
our MasterCraft boats
and your water tube rentals to almost any location on Lake Powell. See the sights of the red rock canyons, do some swimming in a hidden cove, or go tubing behind the back of a speedy surf boat. With tubes for the whole family, you have the entirety of Lake Powell to enjoy!
Whether you have a day, a weekend, or a whole week to spend on the lake, we have a great assortment of inflatable tube sizes that will match your family's size and the duration of your vacation. Rent on our website and pick up your gear at our shop location in Page, AZ. Don't forget to pick up some life jackets before you head out on the water. Check out our shop for all of the essentials you will need for your outdoor trek.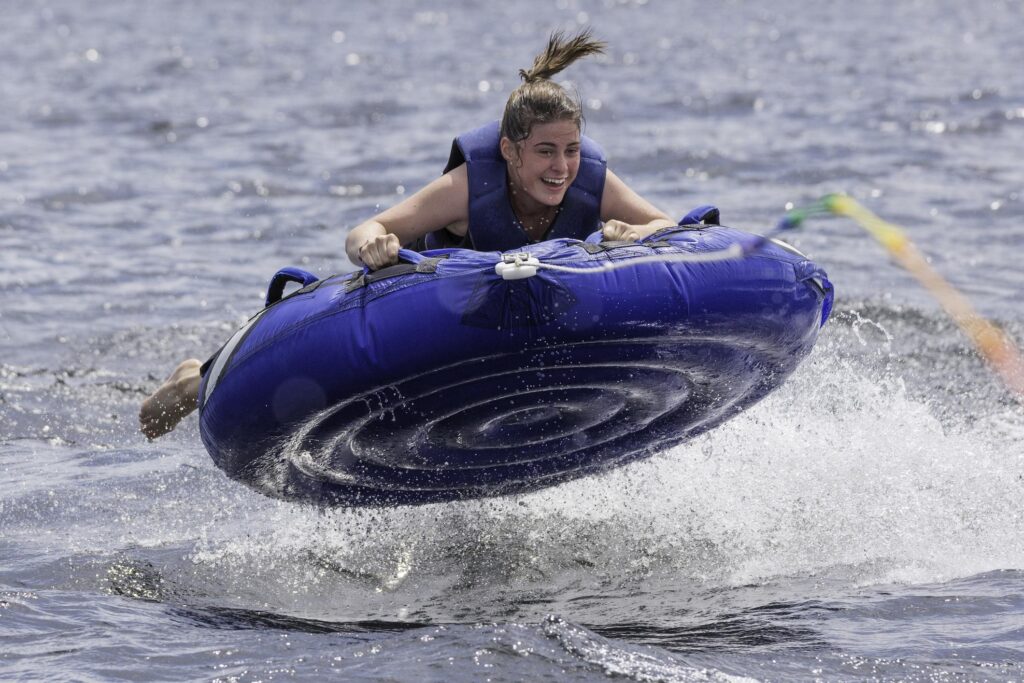 Book a water tube for a week of fun or take it for a spin one afternoon! Lake Powell Rentals & Retail offers affordable rentals for all of our boating and adventure equipment as well as a convenient and reliable booking process.
Contact our shop in Page, AZ, for more information about boat tube rentals and other Lake Powell rentals that will make your trip memorable for the whole family!
Frequently Asked Questions About Tubing
What should I wear when going tubing?
You will need to wear a life jacket, first and foremost. To reduce chafing and tube rash during a long day of tubing, it may be a good idea to wear a shirt beneath it. Whether tubing in deep water or shallow, wearing a pair of sandals that can be tightened and secured to your feet is a great idea to avoid bumps and scrapes from floating debris.
What do I do if I fall off the tube?
This is half the fun! The easy answer is to not panic. With a secure life jacket, you can float on your back with comfort and ease while your boat ride comes back to pick you up. On that note, ensure your boat riders keep a sharp eye out for the tubers.
Is it physically strenuous to go tubing?
Not really. All you need to do is hang on for the ride! And when disconnecting from your watercraft and enjoying the warm sun and water in a slot canyon, all you need to do is float in perfect comfort. Tubing is an activity for all ages, and you can plan for any kind of experience!