Pontoon Boat Rentals

for Your Fun Lake Powell Experience
Here at Lake Powell Rentals & Retail, we understand that everyone goes at their own speed when it comes to boating on Lake Powell. That's exactly why we offer both
water ski
and pontoon boat rental options. We also have several different types of pontoon boat rentals available, so you can choose exactly what kind of boating adventure you want. Rent one of our pontoon rentals and see for yourself why pontoon boats are becoming more popular on the lake! With their extra space, increased stability, and ease of use, pontoon boats deliver in safety and fun. Reserve a pontoon rental for your perfect adventure with Lake Powell Rentals & Retail today!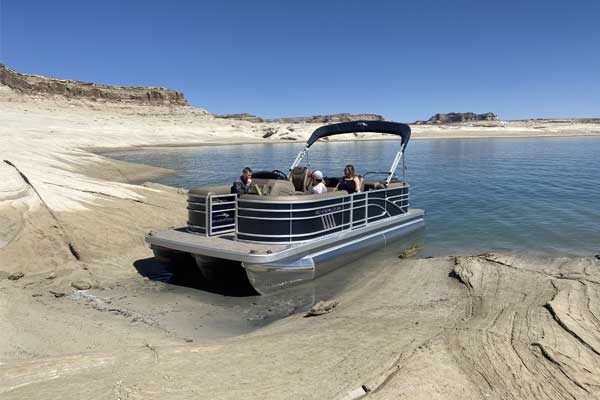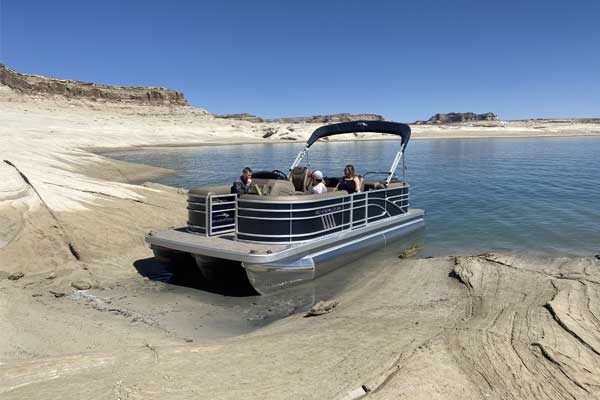 2021 BENNINGTON 22′ PONTOON BOAT
Touring Lake Powell has never been as comfortable and spacious as in one of our pontoon boat rentals. With seating for up to 10 people, our pontoon rentals have plenty of room for you and your guests to relax and have fun while saving some space for a cooler and equipment. Enjoy a smooth ride on the water, whether you're drifting or speeding across the lake.
2022 DAY TRIPPER 22' PONTOON BOAT
Take to the lake in style with our luxurious Day Tripper pontoon boat rental. This sleek pontoon boat has upright and laidback seating for 10 with an overhead UV-protecting sunshade
Take a pontoon boat out for a day on the lake and you'll have enough room to fit the whole family and then some! We want everyone to have a chance to take a run on one of our pontoons. Our other pontoon, however, are available by the day and by the week! No matter what type of pontoon you choose, you can trust that each rental reservation is always confirmed and ready for you when you arrive at Lake Powell!
Book a pontoon boat rental with us today!
Please note the Rental Pick-Up process takes about 30 minutes to fill out paperwork and go over boat operating procedures.
Life jackets
and the required Coast Guard safety kit are provided with your rental for no extra charge. We have sizes for men, women, youth, and children.
All boat rentals, including pontoon boats, are full of fuel when you pick them up. They must also be returned full to avoid extra charges. The equipment uses Premium unleaded gasoline ONLY, and we'll provide you with refueling instructions during pickup. If you need more fuel during the rental period, you can refuel at the floating marina or on the trailer in the city after pulling the boat out of the water.
Transportation for your pontoon to and from the lake is available for a small additional charge. We can also transport PWC and SeaRay for additional charges.
The Best Places for Pontoon Boats

at Lake Powell
Lake Powell is a haven of natural beauty. Soaring sandstone cliffs outline the lake and the several offshoots that lead into Lake Powell. Stunning canyons pocket the area, from the Forgotten Canyon to Iceberg Canyon, all vying for your attention. Many of the canyons and tourist attractions can be accessed without even having to leave the lake. Pontoons will be able to go to most locations that regular boats can. Keep in mind, though, that pontoon boats are wider than water ski boats and won't fit into tighter spaces. Here are two of our top location recommendations for your pontoon adventure.
Conveniently located from both the Antelope Point Marina (10 minutes away) and the Wahweap Marina, you can see Antelope Canyon from the lake and enjoy views that most hiking tourists miss. If you want to see the canyon from inside and out, you can also park your boat at the lower canyon entrance and hike in.
If you're looking for a perfect fishing spot to take your pontoon, Iceberg Canyon is an excellent choice. Iceberg Canyon also has a great 2-mile round-trip hike that is only accessible by boat. The hike will take you to natural springs and even Anasazi ruins. The trailhead to the Iceberg Canyon hike is about an hour's ride away from Bullfrog. Whether you want to hike or take in the canyon's beauty from the water, Iceberg Canyon is full of color, from the lush plant life to the variegated rock walls.
Are pontoon boats stable?
Pontoons are some of the most stable boats on the market. With their large, flat hulls, pontoons have a low risk of flipping over. Additionally, because pontoons float along the top of the water, they have slim chances of running aground. Pontoons are a great choice if you haven't driven a boat before or aren't sure about driving a much faster boat.
Should I rent a boat or a pontoon?
It depends on what you're wanting. If you're looking to fish or calmly coast across Lake Powell, a pontoon is your go-to. Pontoons are also a valid option if you're looking to pull inner tubes. Pontoons are slower than boats, which makes them a family-friendly option. If you're looking for a more fast-paced thrill ride, check out our selection of
surf boat rentals