Protective Life Jacket Rentals

for Lake Powell Adventures
The beauty of Lake Powell's red rock canyons and inlets is matched only by the fantastic warm waters during each summer season. Whether you travel the lake by boat, swim in the shallow water, or go tubing, there is one piece of adventure gear that you must take with you and wear at all times: your life jacket. The water can be dangerous even at knee-high levels, and children of all ages should never get in the water without a life vest. Even having extras inside your boat as a backup can resolve a dangerous situation.
We know from experience that boaters who go underprepared put themselves unnecessarily in harm's way. That's why we're dedicated to providing you with the equipment you need to have fun and stay safe while out on your adventures. Protect yourself, your family, and everyone in your group with quality life jackets from Lake Powell Rentals & Retail! Every life jacket we rent out has been tested to ensure that it always works properly. Keep your life jacket handy, so you can focus on your exploration and play on Lake Powell.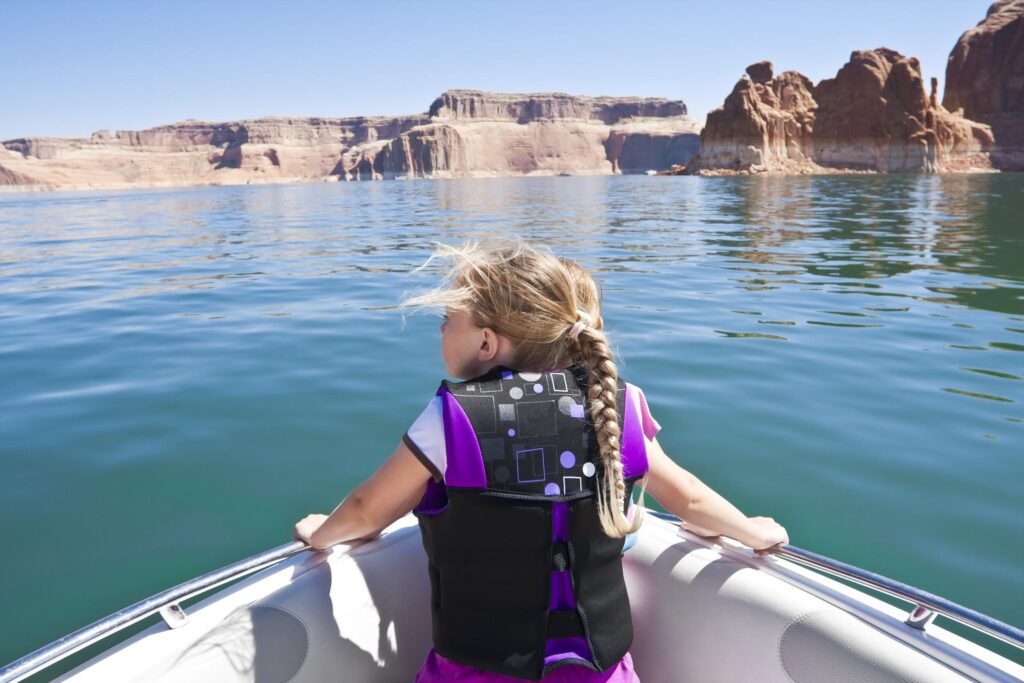 Keep in mind that some areas in Lake Powell are meant for swimming and enjoying the warm waters without the aid of a life jacket. These locations are well marked and will specify they are meant for recreational swimming. Despite this, young children should always wear a life jacket in these areas to prevent accidents.
Exciting Locales for
Swimming in Lake Powell
Learn a little about the areas you can enjoy while swimming in Lake Powell while keeping safe with our life jackets. It is important to keep in mind that no lifeguards watch any of the beaches in Lake Powell, so plan accordingly with kids and adults.
South of the Stateline boating dock ramp at Wahweap is one of the most populated swimming spots during the tourist season at Lake Powell. Year after year, Lone Rock Beach remains a beach that the whole family can enjoy. Whether you want to swim or simply lay in the sun, the beach is wide enough that you can do both. One unfortunate truth is that you may come across the odd floating bottle or bag; the area has become a home to littering over the years. Always pack out what you pack in!
After arriving at the busy boating dock at Wahweap, travel a mile or two down the gravel roads until you come to one of the most secluded swimming areas in all of Lake Powell: Antelope Point. You will immediately fall in love with the natural wet sand and gently sloping red rock here. The most convenient spot to swim is at the Antelope Point Marina itself but searching for your own slice of Lake Powell is much more memorable.
If you take your
boat
and travel down the Colorado River south of Wahweap, you'll come to one of the most unique natural rock formations in the world. Shaped just as the name entails, the river curves around the formation to leave a spire of red rock in the very center. Horseshoe Bend is a sight to see. The bend itself can be a bit narrow if the season is busy, but swimming and boating the area is a must. Some of the red rock slopes can even be climbed, although we advise that everyone should keep Horseshoe Bend a treasure for everyone.
What types of life jackets are there? Which do you offer?
There are a few different types of life jackets you can wear depending on your intended activities. The first life jacket type that we offer is suitable for boating and can be worn comfortably for most of the day. We also offer the type of life vest that you may immediately think of when discussing life jacket designs: thick padding on the back and shoulders. These are excellent for swimming and children. A third life jacket style is a combination of the two, meant for boating at high speed or fishing. These can be a bit uncomfortable if you plan on wearing them all day, but a half-day in one of these jackets is fine.
What do life jackets do, besides making the wearer float?
This is an excellent question, as many people may not realize this feature immediately if they have never gone swimming or boating before. Life jackets are not only designed to keep the wearer buoyant enough to remain above the water, but they are also designed to keep the head and the back elevated. The purpose of this design is to keep the wearer breathing, even if they have been incapacitated in some way.
Are life jackets truly necessary in the protection of a boat?
This is a question that we get all the time. Anytime you are in the water in any way, we highly discourage removing your life jacket in nearly all cases. If you must remove your life vest, remember that most of the swimming locations in Lake Powell are fairly deep, being part of the red rock canyons that continue southward toward the Grand Canyon.
Every year there are reports of accidents that occur on the lake because someone failed to wear their life jacket. Boating or tubing at high speeds, swimming without one, or even enjoying a beach with family can turn into a disaster if a life jacket is removed or falls off.
What size of life jacket is right for me?
The right life jacket should fit snugly without being uncomfortable once all the straps have been tightened. Start with the straps at the waist then tighten the straps at the shoulders for the best fit. Don't tighten the straps too much, or you and your kids won't want to wear it!