Explore and Exercise with
Exciting Water Pedal Bike Rentals
You can enjoy Lake Powell in hundreds of different ways. From kayaking to boating, you can go nearly everywhere. But traditional watercraft can get dull after a while. Why not try something truly revolutionary? Hydrocycles, or water bikes, are just what they sound like: bicycles that can travel across the water using the power of your own legs. These watercraft are built for adventures through canyons and river bends. You can go almost everywhere on the lake with a hydrocycle!
With our low-cost rentals, our water bikes are a great option for those looking for a great excursion plan to visit the most secluded areas of Lake Powell. Water bikes can also provide a workout like no other as you traverse across the shoreline to your intended destinations. Cruise the lake for a single day, or park your hydrocycle on the sand for a camping trip on the edge of the water overnight.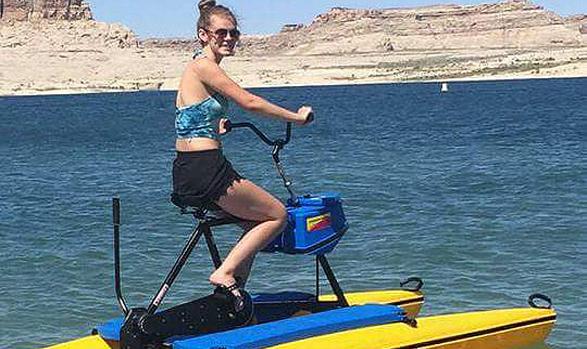 Why settle for typical watercraft when you can explore and exercise on Lake Powell with hydrocycles? Get your group ready for a vacation like no other. Book your equipment from our shop in Page, AZ, today!
Whether you travel solo or as a group, we can schedule your water bikes to be ready for your vacation. We set our pricing low to ensure your adventures are fun-filled and worry-free.
Water pedal bike rentals include life jackets, car racks, and straps for safe transportation to anywhere on the lake. Book a water bike rental with us today!
Contact Us for more information about the Aquatic Bike
An Unforgettable Day

or Overnight Trip Across Lake Powell
New to Lake Powell? Unsure of where you can best enjoy your time with a hydrocycle? Ask us for a map of the best locations to begin your journey. Unlike boats and watercraft, however, water bikes can be launched almost everywhere on the lake. They can also be parked anywhere, allowing you to spend time on the sandy or rocky beaches for a bit of swimming and camping (in designated areas, of course). For more popular landings, check out Antelope Point, Halls Crossing, and more.
Standing 275 feet long, 290 feet above the surface of Lake Powell and ranging from 33 to 42 feet thick, Rainbow Bridge National Monument is a solid sandstone arch that spans the red-rock canyon walls. Don't forget your camera when you arrive at your destination; the sight is unforgettable. On a water bike, an excursion from Wahweap Marina may take a whole day, so prepare accordingly.
From Antelope Marina, travel near Mile 16 towards Padre Bay. Accessible by small watercraft, the canyon is an exciting and beautiful destination because of the slot canyon at the end. Walking through the narrows is exciting, but be aware that some parts may be too narrow even for a water bike. With a combination of gear and equipment, you will love Labyrinth Canyon!
Named for the beautiful butte that rises in splendor about 1000 feet above Lake Powell, Gunsight Bay is a shorter trip than Rainbow Bridge that is perfect for a water biking excursion. The bay is perfect for a week trip due to the many campsites available. Plan your adventure during calm weather forecasts, as accessing the bay can be difficult in bad weather.
Annie's Canyon is a destination for experienced rock climbers and hikers. The beautiful sandstone walls harbor many locations where climbers can show off their talents and take on some of the toughest terrains that Lake Powell has to offer. From Bullfrog Marina, travel southwest near the edge of the canyon to access Mile 83. Bike over to Annie's Canyon during the busy season for a demonstration of strength!
What does it feel like to ride a water bike?
Water bikes are surprisingly easy to ride, even for those with less-than-ideal strength. In fact, they feel just like riding a bicycle on land (except, of course, for a little drift when you stop paddling). You will find hydrocycles surprisingly stable even on choppy waves because of their pontoon design.
Are water bikes difficult to ride?
Not at all! Just like a bicycle, you can travel the length and breadth of Lake Powell under your own power. You can take rests when you need to, of course. Taking off from the correct marinas and beaches can help you find your destination quickly. And since water bikes are so steady and light, you can anchor them almost everywhere, allowing you to camp and hike to your heart's content without worry.
How far can a water bike go?
This depends on your fitness level. Fortunately, it is very easy to ride a water bike and travel as far as you would on a regular bicycle. Even children can ride the water bikes as long as they can reach the pedals! Your entire family can enjoy your rental wherever you choose to harbor.
Can other people ride on the bike as I pedal?
Again, that depends on your fitness level. But yes, our water bikes can handle up to 400 pounds of weight. Children and even adults can sit on the bikes as you glide across the water. That's what makes water bikes so exciting: you can customize your adventure any way you want!